Products by Safer-Networking Ltd.
Spybot fills the gap between Anti-Virus and complete protection by searching and destroying spyware, adware and other unwanted programs and protecting your privacy with the newst Anti-Beacon. Of course Safer-Networking offers complete solutions, including an award winning Anti-Virus engine. Find the right edition for your personal needs below, or browse our product list.
Pre-Release Installer
Microsoft browsers
Chrome based browsers
Firefox based browsers
Opera browsers
Exotic browsers
Data integration
Filters
Classification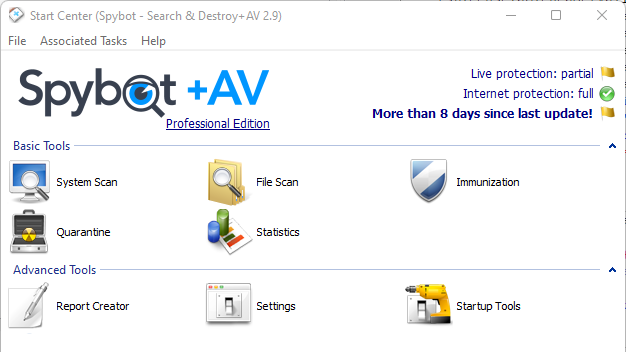 Spybot – Search & Destroy – Professional Edition
Our award winning anti-malware solution. Use it free on top of your existing antivirus, or buy it with a renowned antivirus and even more tools included.
Windows 7 to 11
Anti-Spyware
Anti-Malware
Anti-Rootkit
Anti-Virus (paid)
Startup Manager
One Year License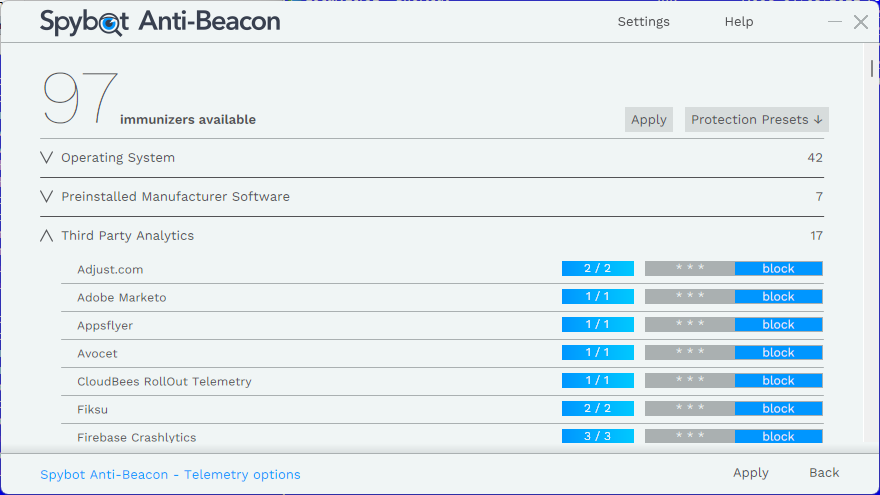 Spybot Anti-Beacon Plus
Spybot Anti-Beacon is a standalone tool which was designed to block and stop the various tracking (telemetry) issues present in Windows 11 and earlier.
Windows 7 to 11
Operating Systems
Browser
Antivirus Tools
Office Suites
OEM Software
Free with paid Pro Features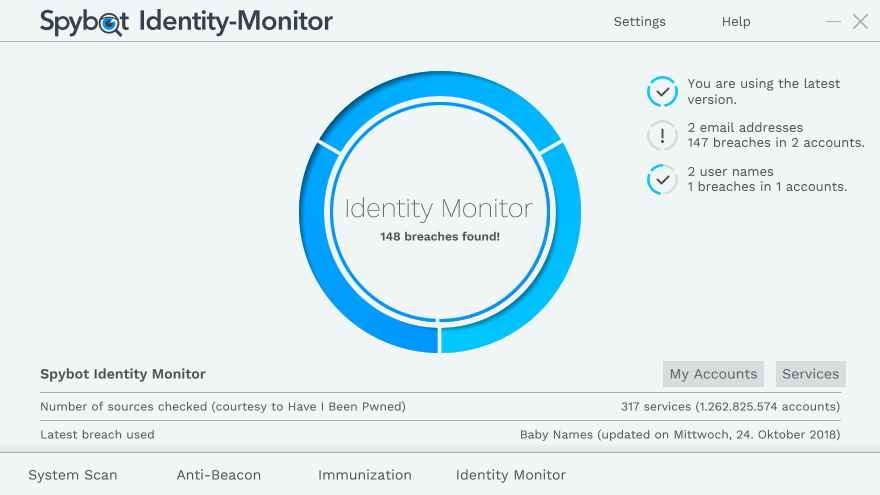 Spybot Identity Monitor
Check if your data was part of a breach. Store your email addresses and/or logins, and have them checked on each system start.
Windows 7 to 11
Privacy First Design
Based on HIBP
Extended by own database
Includes breach details
macOS & Linux pending
Free Software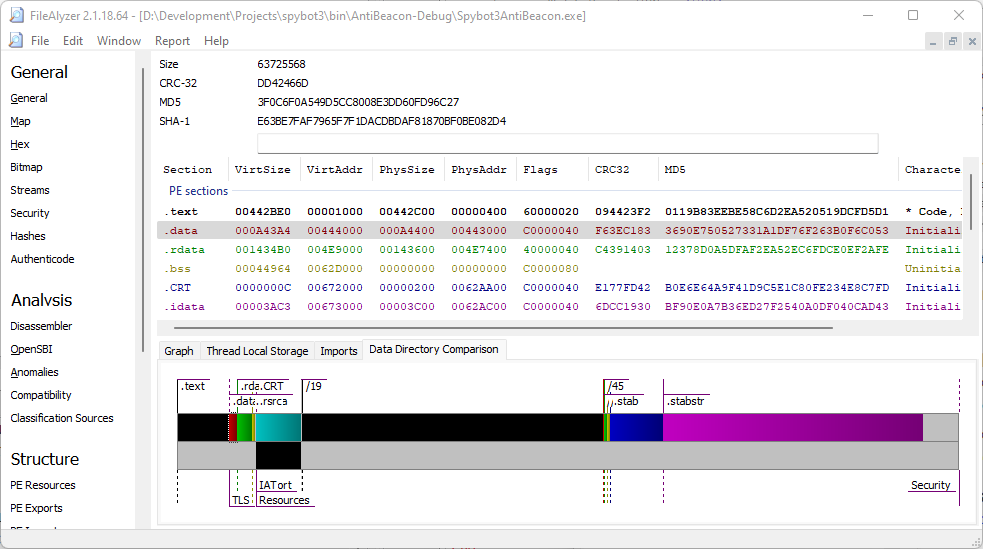 FileAlyzer
FileAlyzer is a forensics file analysis tool. It helps to get a lot of information usually hidden deep down in the binary data.
Windows 7 to 11
Many File Formats
File Resources
Disassembler
Archive Content
OpenSBI Export
Free Software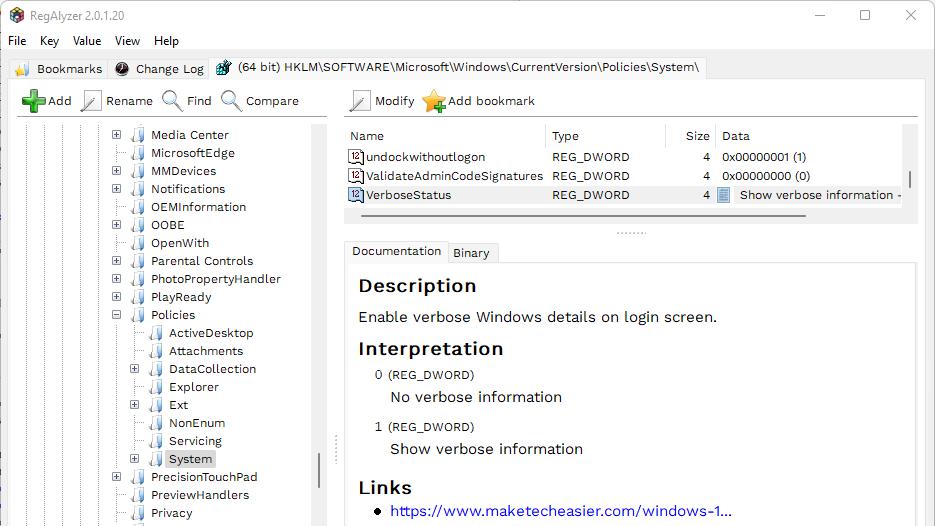 RegAlyzer
RegAlyzer is one of our own daily used forensic tools. It goes beyond Windows' own registry editor with many useful features.
Windows 7 to 11
Support for exotic value types
Background and regex search
History view
Value interpretations
Snapshots of hives
Free with paid Pro Features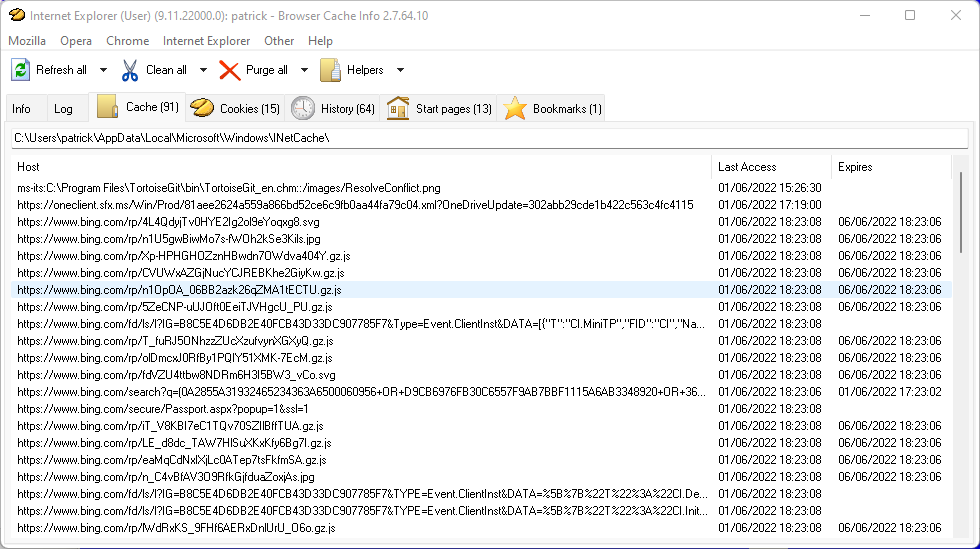 Browser Cache Information
Our internal tool to browse data lists (cookies, history, bookmarks, cache) of the browsers supported by Spybot.
Internet Explorer
Chrome & compatibles
Firefox & compatibles
Opera
Browse data
Purge data
Free Software
Features
Personal
Editions
Business
Editions
Feature
Anti-Spyware
Anti-Virus
Live Protection
Anti-Beacon
System Immunization
Startup Tools
Rootkit Scan
Automatic Signature Updates
Task Scheduling
Protected Repair Environment
System Registry Repair
Priority Support
Secure Shredder
Script Editor
Command Line Tools
FileAlyzer
RegAlyzer
One Year License
Buy now!

incl. tax

incl. tax

excl. tax

excl. tax